Online Checking Account
Checking accounts today are not what they were a few years ago. That's why we work hard to provide affordable state of the art products and services to our customers. Our goal is to give you the same capabilities as larger banks with the personal service of a community bank.
All of our personal checking accounts provide you the sophisticated features you need to take control of your finances. At no additional charge you get a best in class mobile banking app with photo deposit, personal money management software, the MyCardRules app and more. Visit our
Digital Services
page to learn more about how we give you total control over finances, from the comfort of your own home, phone, or tablet.
Send Money with Zelle®




Setup Alerts and Notifications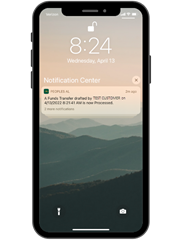 eCheckingPlus
$50 minimum deposit to open
No minimum balance requirement
No monthly service charge with eStatements
Pays interest on balances up to $25,000 plus ATM fee refunds up to $6/cycle when qualifications are met
Qualifications are eStatements, at least 10 debit card transactions that post and clear account (excluding ATM cash withdrawals), and 1 Direct Deposit or ACH debit during statement cycle
Peoples Choice Checking
$50 minimum deposit to open
No minimum balance requirement
No monthly service charge with eStatements
Free custom checks for customers 62 and older
Unlimited check writing with no per check charge
Student Checking*
$10 minimum deposit to open
No minimum balance to maintain
Account is accessed via Debit Card
Total identity monitoring
Cellular telephone Protection
Gift Card Discounts
Identity Theft & Fraud Services
Performance Checking
$100 minimum deposit to open
$1,000 minimum balance to avoid $10 service charge
Free custom checks for customers 62 and older
Competitive interest paid based on following tiers

$0.00 - $999.99 – earns no interest
$1,000 - $49,999.99
$50,000 - $249,999.99
$250,000 – above
* Speak with a banker for additional benefits and details