Personal checking accounts are great for a lot of different reasons—and those reasons are even more pronounced at Peoples Bank of Alabama. All of our personal checking accounts include best in class anywhere banking tools like online and mobile banking, Zelle®, MyCardRules, Peoples Money Manager, and more! Plus, it's easy to get started banking with us—and bank as you please! You might have more questions right about now, and we're here to answer them. Questions like:

Is there a deposit required to open an account?

Are there monthly fees?

Do you have mobile banking?

Is there a minimum balance I have to meet?
The answers to these questions can vary based on the type of personal checking account you open with us. No matter your account preference, we're here to help answer all your questions and desire to exceed your expectations with an excellent banking experience in the process. We make opening a checking account at Peoples Bank simple and we're here to help you decide which account best fits your needs.
What Kind of Checking Account Can I Open at Peoples Bank?
When banking with Peoples Bank, there are multiple checking account options available to you. In fact, we offer three main types of checking accounts to meet your specific needs.
Whether you're looking for a traditional checking account or a state-of-the-art online option, Peoples Bank offers a way to do checking that both suits your preferences and keeps your money protected; safe, and secure.
Read on for more information on our personal checking account options!

Send Money with Zelle®




Setup Alerts and Notifications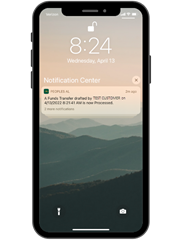 Which Account is best for me?
Performance Checking

Peoples Choice Checking

Simple Checking

Anywhere Banking Tools
Online banking, mobile banking, MyCardRules, Zelle®, bill pay, photo deposit, budgeting tools and financial advice
Anywhere Banking Tools
Online banking, mobile banking, MyCardRules, Zelle®, bill pay, photo deposit, budgeting tools and financial advice
Anywhere Banking Tools
Online banking, mobile banking, MyCardRules, Zelle®, bill pay, photo deposit, budgeting tools and financial advice
Free eStatements with images
May receive paper statements for a $4 fee per month
Free eStatements with images
May receive paper statements for a $4 fee per month
Free eStatements with images
May receive paper statements for a $4 fee per month
Access account via Debit or ATM Card
Enjoy convenient account access for purchases, cash withdrawals or make deposits 24/7 at Peoples Bank ATM's
Access account via Debit or ATM Card
Enjoy convenient account access for purchases, cash withdrawals or make deposits 24/7 at Peoples Bank ATM's
Access account via Debit or ATM Card
Enjoy convenient account access for purchases, cash withdrawals or make deposits 24/7 at Peoples Bank ATM's
Overdraft Protection Options
Courtesy Overdraft Privilege or Overdraft Sweep from an eligible Peoples Bank funding account with no transfer fees. May opt out of Courtesy Overdraft Privilege at any time.*
Overdraft Protection Options
Courtesy Overdraft Privilege or Overdraft Sweep from an eligible Peoples Bank funding account with no transfer fees. May opt out of Courtesy Overdraft Privilege at any time.*
No-Fee Overdraft
Free transfer of funds from an eligible Peoples Bank funding account. We generally decline transactions that cause overdrafts on your account.
Check Writing
Pay by check as often as needed with no limitations to the number of checks paid
Check Writing
Pay by check as often as needed with no limitations to the number of checks paid
Check Writing
This account is designed to be accessed via Debit Card. There will be a $1.00 fee assessed for each check paid, including checks issued through the bank's Bill Payment.
Free custom checks for customers 62 and older
Free custom checks for customers 62 and older
Earn Interest on Your Balance
Competitive interest paid based on the following tier

$0.00 – $999.99 — earns no interest
$1,000 – $49,999.99
$50,000 – $249,999.99
$250,000 – above

Maintain an average monthly deposit balance of
$1,000 and we'll waive the $10 monthly service charge.
No monthly maintenance fee
No monthly maintenance fee
* Speak with a banker about all your overdraft options