Personal Banking
At Peoples Bank of Alabama, we care about people by providing all the personal banking services you want and need with kindness, compassion, and a sense of value. Every time you talk to your banker, you're talking to someone you can trust.
We offer a wide variety of products and services to meet your financial needs, with the capability of a big bank and the personable service of a community bank. Whether you're looking for a checking, savings, or money market account, we will take the time to get to know you and understand your situation before suggesting a product or service.
Our goal is to provide top-notch customer service so we can exceed your expectations. We don't see you as an account or a number. We see you as a real person, with real needs, real problems, and real dreams. Our associates pride themselves on building strong relationships with every customer - and it shows.
Plus, we offer the kind of convenience that many other banks simply can't through our advanced digital banking services. Turn to our mobile app to help you manage your finances, budget wisely, and track your progress. Additionally, you can use MyCardRules™ - our new debit card management app that allows you to fully control your debit card from your mobile device. Our innovative online banking solutions give you total control over your finances, from the comfort of your own home, phone, or tablet.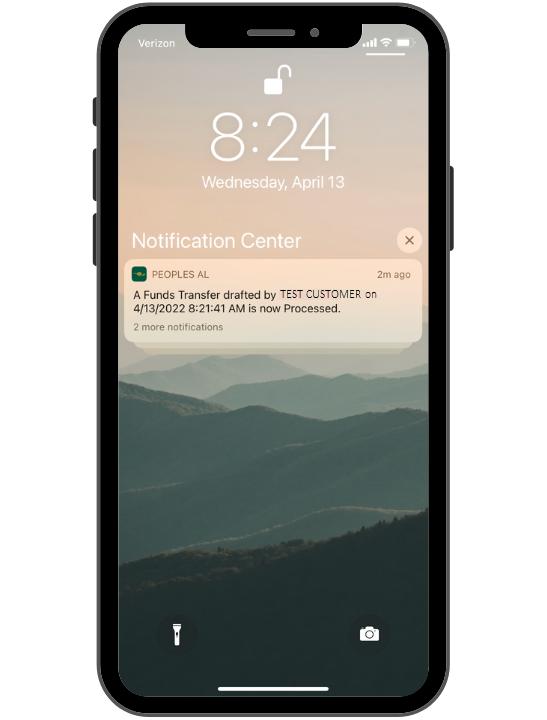 Setup Alerts for Almost Instant Notifications
One of the best ways to protect your accounts is to setup alerts through online and mobile banking. These alerts can be delivered via email, text or push notification. With push notifications, you know what's going on with your accounts right on your phone almost instantly without having to sign-in.
Checking
We all want convenience and control. With our checking solutions and digital banking services you get just that.
Savings
We all need to save and whether you are just getting started or have been saving for a lifetime, we've got a solution just for you.
Loans & Lines
Lending shouldn't be a transaction-it's a partnership. We are here to help you accomplish your biggest dreams. Learn more or apply now by clicking below.
Credit Cards
Cash back or Low Rate? You get to choose what's best for you with a Peoples Bank of Alabama Visa Credit Card.