Technology with a Personal Touch
Peoples Bank of Alabama is excited to offer video teller service available in the drive thru and lobby at select branch locations. Using high-definition video chat technology to connect with full service tellers, customers will see and talk to a live teller located in our Cullman ITM Call Center. Customers may also use these machines as any other ATM, 24 hours a day, 7 days a week.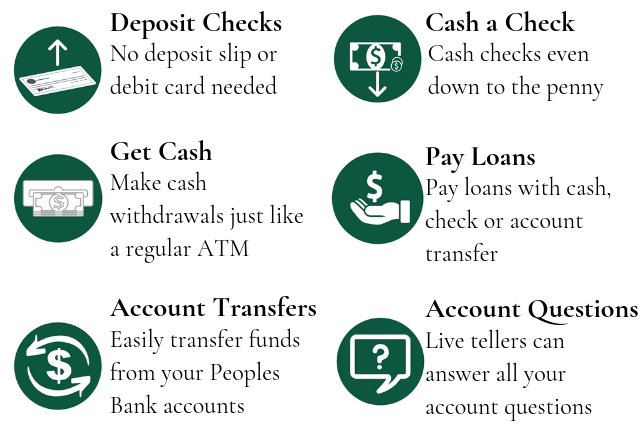 ITMs are user friendly and easy to operate. The ITM video teller is prompted when you touch the button and select the Interactive Banker option. The Live Teller appears on the screen to assist you with making account withdrawals, cash or check deposits, loan payments and transfers to or from accounts.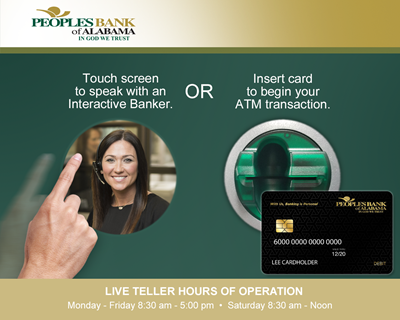 Video Banking Available at these locations:
ITM Frequently Asked Questions
What is an Interactive Teller Machine or ITM?
ITM is the short name for Interactive Teller Machine, which is a video-based interactive technology that allows customers to conduct transactions and banking services driven by a centrally based teller, in a highly engaging real time video/audio interaction.
Where will the ITMs be located?
The new ITM machines are coming to select locations as we work to improve your banking experience. Currently the live teller is available Monday - Friday during normal business hours and on Saturdays from 8:30 am - 12:00 pm. Customers may use the ITM for traditional ATM services any time of the day or night.
Why is Peoples Bank launching ITMs?
Part of our vision statement is to be the leader in providing affordable, state of the art financial products and services to consumers and businesses in the communities we serve. To live out this vision, we work hard to provide the most current customer use technologies, so you have convenience and accessibility to us for your banking needs.
What types of currency does the machine carry?
The machine can dispense, 100's 20's 5's and 1's for cash and quarters, nickels, and pennies in coin.
Can I deposit coins in the machine?
No, you cannot put coins in the the machine, however it will dispense coins.
Still have questions? We are here to help. Send us a message with your question and we'll respond with an answer shortly