Purchase With a Purpose 2022
---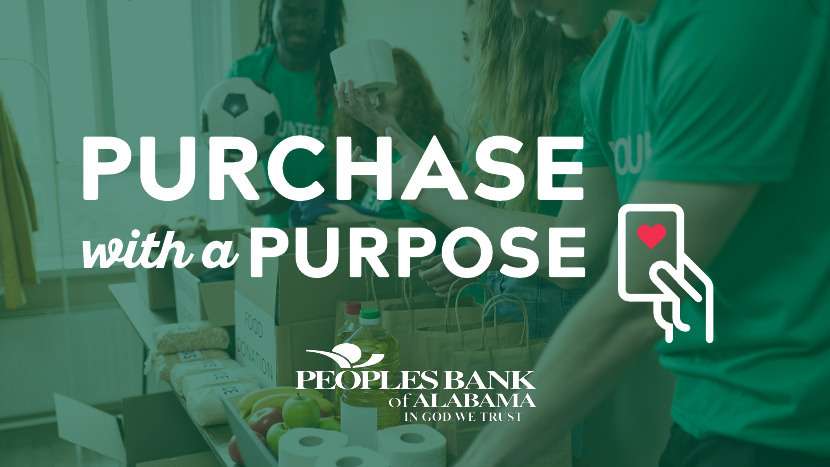 As we enter the 2022 season of giving, Peoples Bank of Alabama is excited to offer our Purchase with a Purpose opportunity for the third consecutive year in a row. For every purchase made with a Peoples Bank of Alabama Discover® debit card between November 1st and November 30th, $1 will be donated to local non-profit organizations – up to $20,000.
There are eight non-profit organizations that will receive donations, and we are excited to partner with Discover® to give back to our local communities. The organizations we will support, one from each of the 8 counties we serve, are listed below along with a brief summary of their mission statement.
FACES (Families and Children Experiencing Separation) in Morgan County is an organization whose mission is to meet the needs of children in foster care or at risk of being placed in foster care. They were formed for the purpose of meeting the emergency medical and health needs of abused and neglected children.
Sleep in Heavenly Peace (SHP) –is a 501(c)(3) charitable organization in Etowah County that organizes volunteers to help build beds for kids sleeping on the floor. Child bedlessness is a national problem, and as a national nonprofit with chapters spread across the country, SHP is providing the solution.
The mission of the Cherokee County Crisis Center is to provide emergency assistance through the giving of food, clothing, shelter, financial assistance, and furniture to those who are facing a crisis.
The Hope House began with the objective to provide food, clothing, shelter, and substance abuse rehabilitation programs to the Blount County community. Established in January of 2000, the Hope House continues to be Blount County's designated home for refuge, learning and community.
Neighborhood Bridges launched in January of 2017 to respond to the growing rate of poverty in suburban and rural communities of America. Their mission is to create a gateway for kindness by partnering with local schools to help meet the needs of children and families.
Cullman Caring for Kids is an organization created to see the next generation loved, encouraged, and physically and emotionally prepared to face life. Their mission is to stop the cycle of abuse and neglect.
The mission of Serving You Food Pantry is giving hope to families in the greater Birmingham area by providing sustainable solutions to challenges they face. They assist in education, child care, job readiness, safe and affordable housing, health and nutrition, and crisis relief through hub partnerships.
Heals, Inc. is a 501(c)(3) non-profit organization located in Huntsville. They are dedicated to providing accessible, quality, school-based primary health care for low-income children through collaborative efforts with the Huntsville City/Madison County school systems and the medical community.
Peoples Bank of Alabama is a community bank that places value on local communities. We are honored to offer this campaign this month. Thank you for using your Peoples Bank of Alabama Discover® debit card every time you make a purchase in November as we team up to Give Back!
To learn more about Peoples Bank of Alabama, visit https://peoplesbankal.com/our-story.
---