Protect Yourself Against Identity Theft
---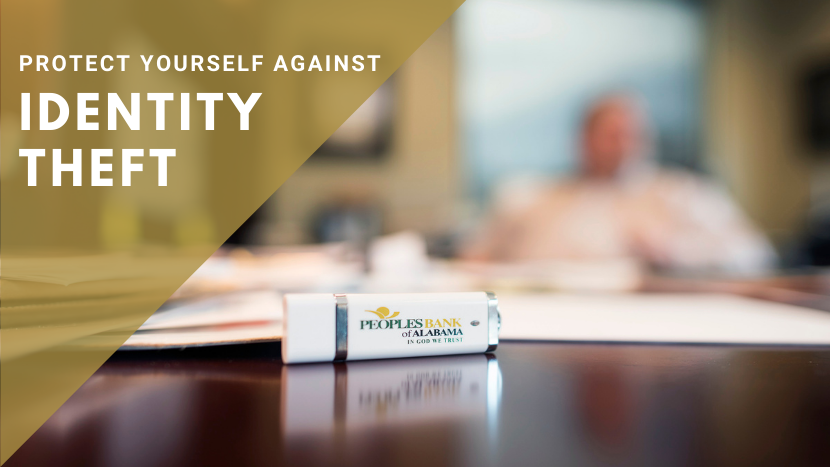 Question: How can I protect my personal information when using my computer or using my phone?
Answer:
If you are logging into an online account, use a strong unique password. For example, never use your birthdate or your child's name.
Use multi-factor authentication for accounts that offer it. Multi-factor authentication offers extra security by requiring two or more credentials to log in to your account.
Never give your personal information to someone who calls, emails or texts you. It could be a scammer trying to steal your information. Never provide personal information over the phone unless you initiated the call. At Peoples Bank of Alabama, we will never call you and ask you for your social security number, debit card PIN or any other personal identifying information. However, if you call us, we will ask this type of question to authenticate you and make certain we are giving your account information to you and you alone.
Question: What can I do to detect identity theft?
Answer:
Track the bills you owe and when they are due. For example, if you stop getting a credit card bill, contact your financial institution to be certain someone hasn't changed your billing address.
Review your billing statements. Charges for things you didn't buy could indicate identity theft.
Promptly check your bank account statements for any transactions you did not make.
Consider signing up for eStatements to help reduce mail fraud.
Review your credit reports. If there are accounts in your name that you do not recognize, you could be a victim of identity theft. Call (877) 322-8228 or go online to www.annualcreditreport.com to receive your free report.
Peoples Bank of Alabama also offers a new security benefit at no cost to our customers. You can enroll at www.discoverdebitsecurity.com. This service will monitor the dark web and will notify you if your personal information has been exposed. It will monitor your credit information and will alert you of suspicious activity the moment it is noticed. You will also receive a monthly FICO score based on Experian data, internet surveillance alerts when information such as your social security number, credit card, email address or phone number are detected on suspicious websites and chat rooms, a real time monitoring alert when new credit or new account inquiries are detected on your Experian report, and you will have access to Experian call center specialists. Please call us at (877) 788-0288 if you need help with enrollment.
For more information about protecting your personal information click here https://peoplesbankal.com/digital-services/information-security.
---