A Bank Account Protects Your Money
---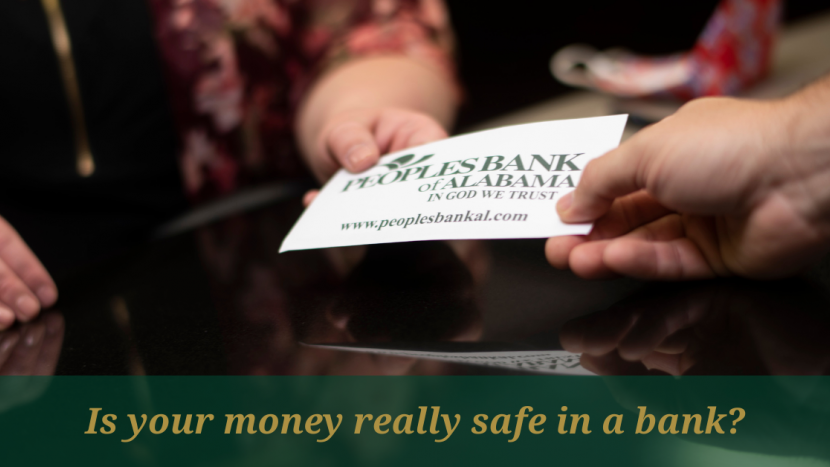 Question: Why is my money safer in a bank than it is at home?
Answer: First of all, you work hard for your money and protecting your money from loss is important. Storing large amounts of cash at home is risky. Even if you have a safe or other secure place to keep it, large cash reserves in the home are susceptible to robbery and could be destroyed by fire, flood, or other natural disasters. On the other hand, when you deposit your money in a bank, it is not only stored in a secure place but it is also insured by the FDIC. FDIC stands for Federal Deposit Insurance Corporation and it is an independent agency of the federal government that insures your money. For example, if the bank goes out of business and you have $5,000 in your account, the FDIC will give you that $5,000. Your money is FDIC insured up to $250,000. On the other hand, if you have a fire in your home and do not have insurance, you risk losing all of the cash you've saved.
Checking accounts are among the most popular banking products available. Most of them today come with a debit card, however, you may choose to use paper checks for paying bills or making withdrawals. Banking laws protect your money in your checking account if there are fraudulent withdrawals. If your cash is hidden at home, you may not have any protection at all against fraud or theft. With a checking account, if you need cash you can use your debit card anytime at the ATM (Automated Teller Machine) or visit the nearest drive-thru location.
A checking account helps you track your balance and where you spend your money. At Peoples Bank of Alabama, you have access to your balance 24 hours a day, 7 days a week with online banking. Behind the scenes, the bank is also keeping up with your balance as you make deposits or withdrawals. If you own a smartphone, you can use mobile banking to easily check your balance and track your expenses or withdrawals. Or, if you prefer, you can call telephone banking anytime to hear current balance information as well as your recent account activity. To reach this service dial 877-788-0288 and choose option 4. At Peoples Bank of Alabama, online, mobile and telephone banking are free services.
When you have a checking account, you can set up direct deposit with immediate access to your payroll check. Direct deposit saves you time and money. No more standing in line or paying a fee to get your paycheck cashed.
Your checking account can help you budget your money, make on-time bill payments and save for large purchases. We are passionate about helping you improve your future financial outlook!
Not only does the bank protect your money, they are required to protect your financial information. When you open an account, they have a mandatory obligation to provide proof of how your information is protected and to notify you if there are any updates to their privacy policy.
We want you to be confident that your money is safe and better protected when you keep it in an FDIC insured bank versus keeping it at home. If you have any questions about this information you may contact us through our website, by calling 256-737-7000, or click here to open an account: https://peoplesbankal.com/open-an-account
---