Purchase with a Purpose 2021
---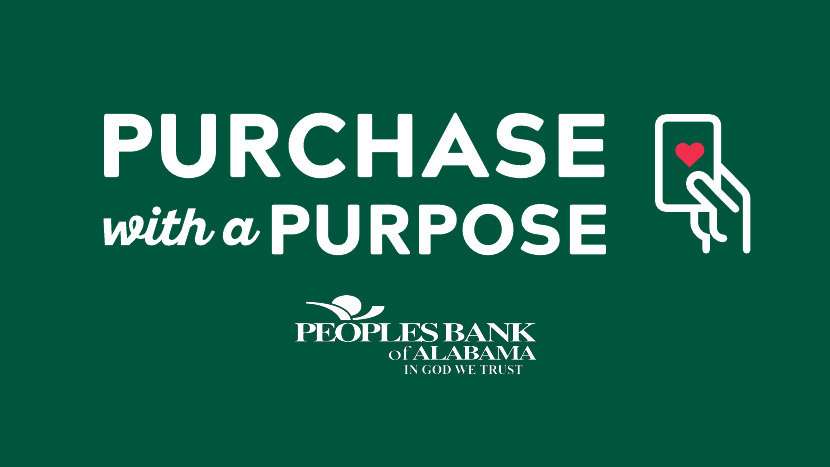 We are excited to celebrate our 44th birthday as a financial institution in October by offering our Purchase with a Purpose opportunity again this year. For every purchase made with a Peoples Bank of Alabama Discover® debit card between October 1st and October 31st, $1 will be donated to local non-profit organizations – up to $15,000.
We are honored to be donating to seven non-profit organizations, one in each of the 7 counties we serve, and to partner with Discover® to give back to our local communities. The organizations we will support are listed below along with a brief description of the community work they contribute.
FACES (Families and Children Experiencing Separation) in Morgan County is an organization whose mission is to meet the needs of children in foster care or at risk of being placed in foster care. They were formed for the purpose of meeting the emergency medical and health needs of abused and neglected children. There are few gifts as valuable as a child and we are thankful for the way FACES serves the needs of the children and families of our community.
Sleep in Heavenly Peace (SHP) –is a 501(c)(3) charitable organization in Etowah County that organizes volunteers to help build beds for kids sleeping on the floor. Child bedlessness is a national problem, and as a national nonprofit with chapters spread across the country, SHP is providing the solution and we are grateful to support their cause.
The mission of the Cherokee County Crisis Center is to provide emergency assistance through the giving of food, clothing, shelter, financial assistance, and furniture to those who are facing a crisis. We have supported the Crisis Center for years and we're honored to continue partnering with them through this project.
The Hope House began with the objective to provide food, clothing, shelter, and substance abuse rehabilitation programs to the Blount County community. We have a long-standing relationship with this organization and that means a lot to us.
Neighborhood Bridges launched in January of 2017 to respond to the growing rate of poverty in suburban and rural communities of America. Their mission is to create a gateway for kindness by partnering with local schools to help meet the needs of children and families. We're grateful to know that 100% of what is raised in each community...remains in that community.
For many years we have partnered with Cullman Caring for Kids, an organization created to see the next generation loved, encouraged, and physically and emotionally prepared to face life. Their mission is to stop the cycle of abuse and neglect. We're grateful for their service to our community.
The mission of Serving You Food Pantry is giving hope to families in the greater Birmingham area by providing sustainable solutions to challenges they face. They assist in education, child care, job readiness, safe and affordable housing, health and nutrition, and crisis relief through hub partnerships. We're honored to facilitate a financial literacy course at this organization several times a year.
Peoples Bank of Alabama is a community bank that places value on local communities.
Thank you for celebrating our 44th anniversary of being a part of north and central Alabama by using your Peoples Bank of Alabama Discover® debit card every time you make a purchase in October. To learn more about Peoples Bank of Alabama, visit https://peoplesbankal.com/our-story.
---