Help Prevent Fraud with MyCardRules
---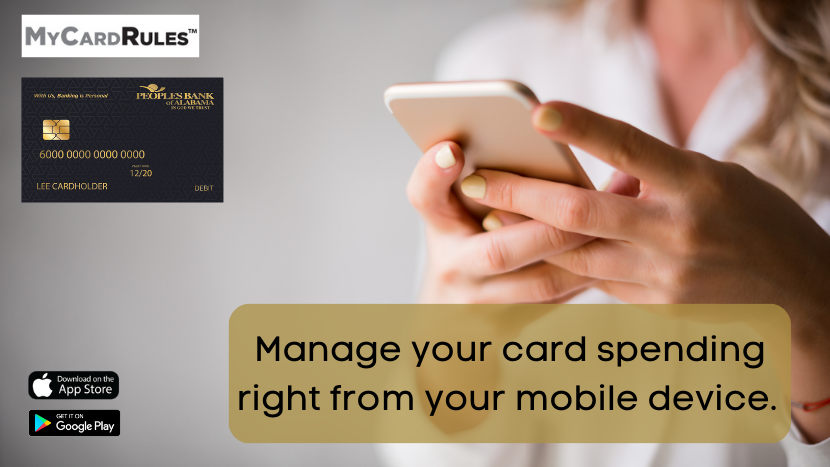 As fraudulent activity continues to increase, it has never been more important for your card purchases to be as safe and secure as possible. Electronic spending is definitely more convenient, but it carries a measure of risk that we want to help minimize.
MyCardRules™ is an easy-to-use mobile app that helps you manage your card activity. It allows you to set card controls, add restrictions and receive transaction alerts that appear on your phone like any other notification.
Simply go to the App Store® or Google Play™ and download the MyCardRules™ app. Select "New User" and then enter your card information to begin the registration and login process. In no time, you'll be able to access the "Card Details" screen to:
Turn your card on or off
Set transaction spending limits based on your preferences, including dollar amount, transaction type and merchant type
Get instant alerts on certain types of transactions; for instance, when a transaction is declined
Set a specific region where the card can be used or restrict usage based on your mobile device's location
Set parental controls and monitoring
Managing your card transactions all in one place brings such peace of mind. You'll finally have control of how, when, where – and WHO uses your card(s). Plus, knowing you have rules, restrictions and alerts in place that meet your specific preferences adds another layer of fraud detection and prevention! Your account is password protected AND highly encrypted.

For more financial education tips and tools, visit: www.peoplesbankal.com/advice
For more help with information security, click here: www.peoplesbankal.com/informationsecurity
---