Peoples Bank of Alabama Sponsors Friday Night Rivals
---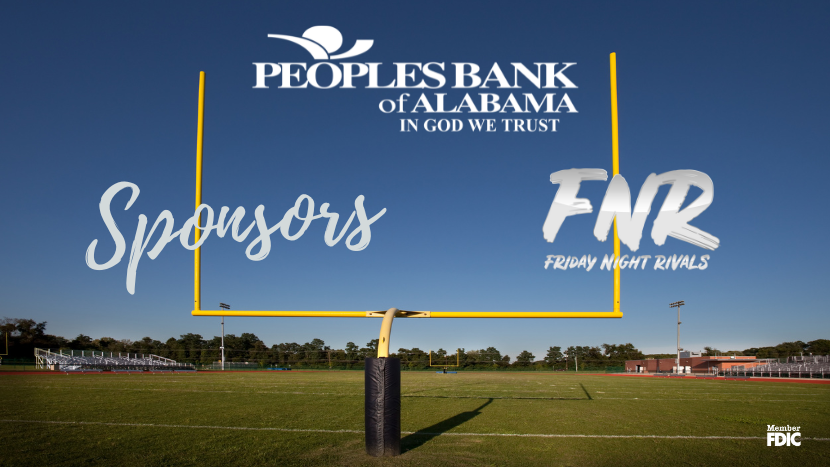 Peoples Bank of Alabama is once again a proud sponsor of Friday Night Rivals (FNR), a LIVE Broadcast that airs Friday Nights on WABM My 68. The games kicked off Friday night, August 26th between Hillcrest and Armwood and will air through the end of October as communities come together to cheer and support their teams!
FNR is a community-based project supporting high school students, coaches, athletes, teachers, parents and families. We are proud to play a small part in showcasing these student athletes and all those involved in the games both on and off the field.
WABM was recognized by the Alabama Broadcast Association for its many years of highlighting a Scholar Athlete each Friday night. The Friday Night Rivals Athlete of the Year DVD Contest was launched in 2010 as a vehicle to recognize and reward student athletes for excellence in both sports and academics. Each week during the broadcast, a Student Athlete of the Week is nominated and honored on the station.
Since its inception in 2010, the contest has resulted in thousands of dollars in scholarships to colleges like Auburn University, Samford University, The University of Alabama, The University of Montevallo, and many others.
The LIVE Friday Night Rivals broadcast as well as the contest is featured and promoted on all platforms including abc3340 WBMA, CW21 WTTO, my68 WABM, as well as online, social media, abc3340 news, and abc3340's Talk of Alabama.
Be sure to tune in to all the LIVE games on WABM Friday Nights at 7PM, or watch them online at https://wabm68.com/sports/friday-night-rivals. Friday Night Rivals BLITZ Pre-Game airs on WABM Friday Nights from 630P-7P, with James Spann doing the weather LIVE during the show.
Peoples Bank of Alabama is a community bank that puts community first. To learn more about how you can save, grow, and invest with confidence visit www.peoplesbankal.com.
---