New Year Banking Resolutions
---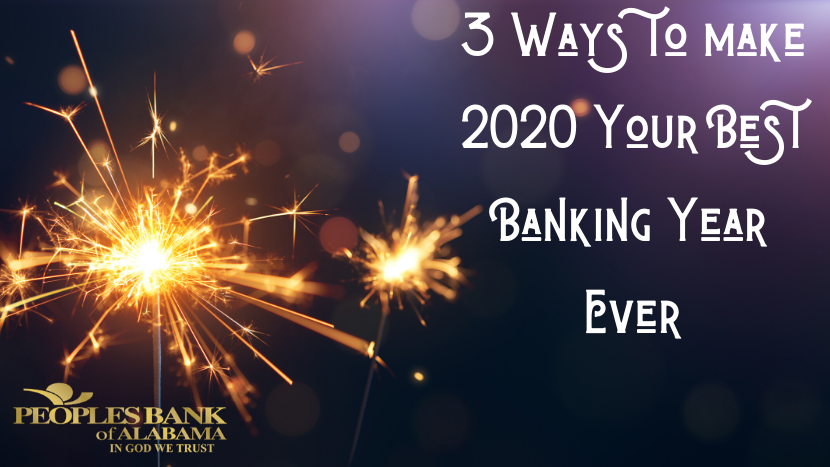 The beginning of a new year is always exciting and offers a fresh perspective on the opportunities ahead. But first, we have to wrap up a few details from the prior year before launching into the new. From the bank's perspective, here are just a few things you should do now to be ready for whatever comes your way.
Get Your Financial House in Order
Get your personal and business financial statements and tax returns completed in a timely manner. Corporate tax returns are typically due March 15 and personal tax returns are due April 15. Many times the bank schedules loans to mature at these times so the bank can consider the financial performance of the prior year before making decisions about renewals, modifications or extensions. Even new loan requests will be easier to get approved with current financial information. The IRS allows tax payers to file extensions which can move the due date all the way to September or October; however, all this does is prolong the inevitable. Please consider getting your financial house in order so you can enjoy the benefits that come from being prepared.
Plan Ahead
Let your banker know as soon as you can about upcoming financial needs, challenges or even unfortunate surprises that may negatively impact your business next year. All banks have required procedures for considering new loan requests, modifications for existing loans, or processes to deal and document challenges and problem issues. Everyone gets frustrated with the appearance of a fire-drill when the situation was well known in advance and things could be addressed in a methodical manner. Well thought out actions and good communication will lead to the best results for everyone involved.
Accept the Red-Tape
While we wish we could magically make all the paperwork, processes and procedures, reports and notifications, legal jargon and meetings disappear, unfortunately it is a fact of life for those of us in the financial services industry. Regulations are designed to keep all of us (that means all financial institutions as well as borrowers) operating fairly, openly, and consistently so that the bank remains healthy and you as a borrower have the best chance of getting the financing result you need. We all complain about what is required but it doesn't help anyone when we question what we cannot control. So keep a good attitude and roll with the punches. We'll all get there in the end!
Your bank should be a partner in making your business dreams come true. Here at Peoples Bank we succeed when our local communities are growing and thriving. As a small business owner, you are a driving force behind local community health. If you already bank with us, thank you for your business and please talk with your local banker on how we can continue to support your financial needs. For those banking elsewhere, we hope you have a banking partner that puts you first and is meeting your expectations. If not, we'd be honored for consideration. To find a local banker near you, visit our locations page for more information.
Happy New Year and may 2020 be your best year ever!
---