Be Protected and Update Your Internet Browser
---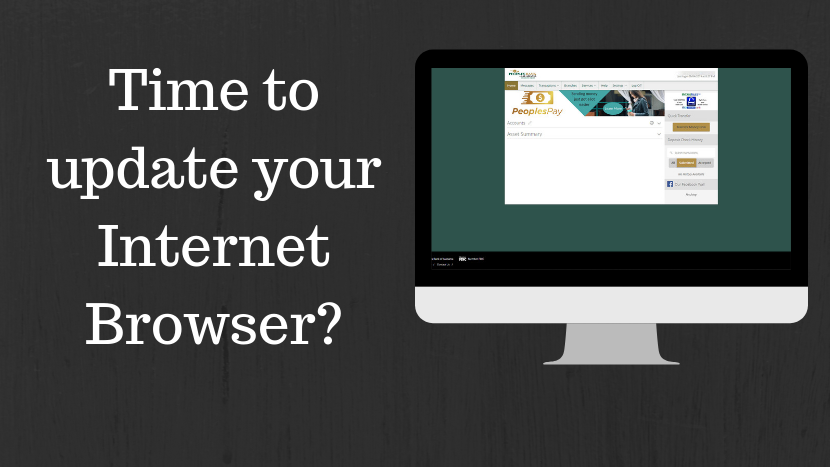 On April 7, 2020 Online Banking will no longer run on the Internet Explorer (IE) Browser. The reason for this change involves Protection and Progress.

Protection
Recent articles from Microsoft's own security professionals advise against using IE, version 11 (IE11).
Microsoft reports that IE11 is no longer suitable for browsing the web. They recommend if you do use IE11, use it for internal tools only, such as legacy apps that are not updatable.
Microsoft no longer offers Internet Explorer. From Windows 10 forward, their default browser is Edge—an "evergreen" browser that will not require users to initiate updates.
Progress
Faster, more engaging and relevant experiences, by discontinuing IE.
IE is a six-year-old browser that does not take advantage of many modern technologies which makes nuances in Online Banking difficult

In order to provide you, our account holders, with a more secure experience, we're following Microsoft's recommendations and moving forward with plans to end support for IE11. Of course, you will be able to use IE11 for browsing other sites and using other applications, but after April 7, 2020, you will need to begin using Chrome, Firefox, or Microsoft's Edge Browser.
At Peoples Bank, we work hard to protect you and your information. Updating your browser is an important step to ensuring you stay protected. When downloading a new browser, be sure to do so directly from the developer's website and not a 3rd party website. Check the URL to verify you are on the developer's site before downloading.
Important Dates:
Beginning Notification: September 3, 2019
Soft Block: January 7, 2020
Hard Block: April 7, 2020 (IE no longer available)
---