Apple Pay iPhone Setup Instructions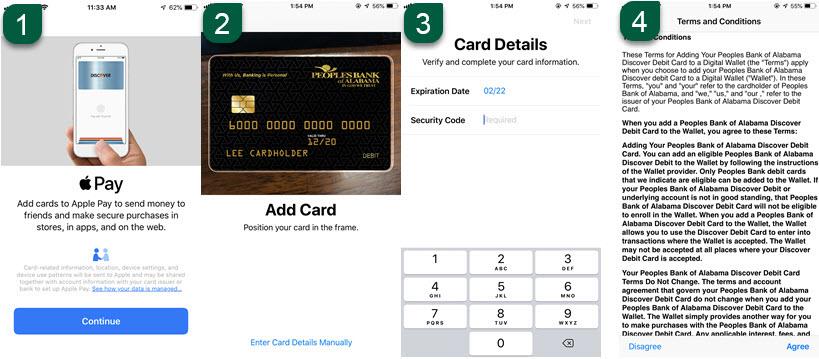 Step 1 - After clicking the blue circle with the white plus sign (add option), you will be taken to the screen shown. Once you have reviewed the information, click "Continue"
Step 2 - In this step, you will enter your Peoples Bank of Alabama Discover® Debit Card number. You may elect to have the Wallet App "read" your card number or you may manually enter the card number by selecting "Enter Card Details Manually."
Step 3 - Here you will either enter or verify the expiration date and enter the Security code located on the back of your debit card. Once you've entered the necessary information, click "Next."
Step 4 - Review the Terms and Conditions, then click "Agree" to continue.
Step 5 - This is an important step for your protection. We will need to verify your card for usage with Apple Pay®. To do this you have two options – Option 1, Call our Customer Support team or Option 2, receive a text message with a 6 digit verification code. It's important to know this number is masked and must be the number we have on file for you. This verification step is important to verify the card owner is the person attempting to add the debit card to Apple Pay®. This is another reason customers should make sure we have the most accurate contact information on file.
Step 6 - Here you will enter the 6 digit verification code. Once complete, click "Next."
Step 7 - Click "Learn More" to get more information provided by Apple on using Apple Pay®. When ready to proceed, click "Continue."
Step 8 - If you do not have an Apple Watch linked to the device, the "Card Activated" screen will appear. Click "Done" to finish the setup process. If for some reason you have an issue, please contact us for additional assistance.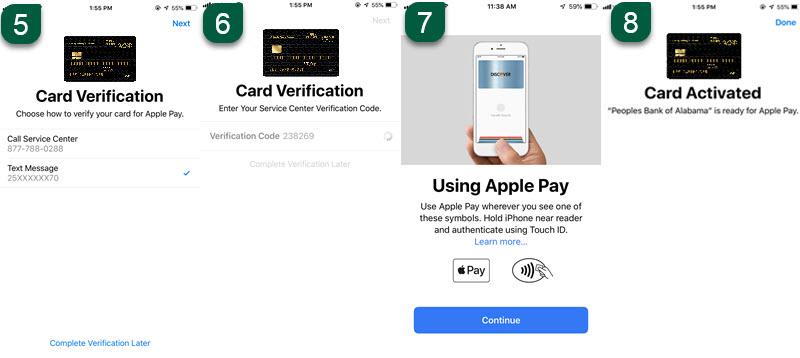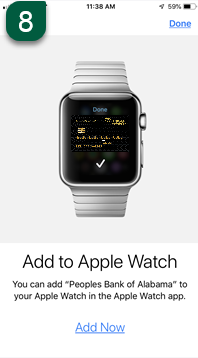 If you have an Apple Watch linked to your device, you may get this screen after #7 allowing you to add your Peoples Bank of Alabama Discover® debit card to your Apple Watch. Click "Add Now" and follow the on screen instructions. The process is very similar to setting up Apple Pay® on your phone.
When clicking "Add Now" your iPhone will launch the Apple Watch App. Upon returning to your Apple Wallet App, you should see #8.